Ayurveda Self Care & Yoga Retreat
3 day / 4 night Intensive Residential Retreat
Amboli - Western Ghats, Maharashtra, India
Yoga Alliance Continuing Education Certificate
Take 3 days out of your busy schedule to relax and rejuvenate in order to create perfect health and experience the basics of Ayurveda, Yoga and personal well-being.
• Deepen Mind-Body Understanding
• Daily Immersive Experiences on Creating Perfect Health
• Daily Yoga & Meditation
• Nature Walks
• Healthy Diet
If you want to deepen your own practice of Yoga and meditation while gaining a basic understanding of Ayurveda in order to be able to share these powerful teachings with your students and friends, this Ayurveda Self Care & Yoga Retreat was designed for you.
This 3 day special retreat is based on understanding the ancient science of Ayurveda and learning how to use and benefit from the integration of Yoga and Ayurveda to modify your physical and mental limitations and to improve your overall health pattern.
You will receive a systematic introduction to the sciences of Ayurveda and Yoga, and learn about mind-body constitutions and practical tools to create perfect health and a mindful life. Sessions also include guided meditations, Yoga and pranayama sessions, an introduction to emotional well-being practices, life reflection sessions and free consultations with the Ayurvedic physician.
Arrival: Monday, 11 February, after 2 PM
Departure: Friday, 15 February, 2019, before 11 AM
Course Content
Philosophy of Ayurveda: 4 Aims and Stages of Life & Samkhya Philosophy
Introductory understanding of of Ayurveda & dinacarya (daily health routine).

Introductory understanding of the philosophical foundation of Ayurveda, including the 4 aims and stages of life from Yogic vision of life.

Introductory understanding of the main elements of samkhya philosophy.
The 5 Elements & 20 Gunas
Introductory understanding of the 5 elements/ mahābhūtas.

The 10 pairs of gunas, in English and Sanskrit.
Tridosha Theory & Gunas of Yogic Science
An introductory understanding of the relationship between microcosmic and macrocosmic relationship between the triadic octaves of reality.

Understanding the guna based lifestyle in Yoga and Ayurveda.

The three dosas & the fifteen subdosas.

Causes of disorder in the dosas and subdosas and possible options to resolve the disorders.

The times of day and age associated with each dosa.

The elements associated with each dosa and each of the 6 tastes.
Vata: The Mobile Force, Corresponding Sites & Subtypes
Gunas (qualities) of vata.

The main sites of vata accumulation in the body.

The main functions of vata.

The general causes of vata imbalance.

The 5 subtypes of vata and their main sites, functions and directions of their movements (for vata).

The main therapeutic sites for vata.
Pitta: The Transformational Force, Corresponding Sites & Subtypes
The gunas (qualities) of pitta.

The main sites of pitta accumulation in the body.

The main functions of pitta.

The general causes of pitta imbalance.

The 5 subtypes of pitta and their main sites, and functions.

The main therapeutic site for pitta.
Kapha: The Stabilizing Force, Corresponding Sites & Subtypes
The gunas (qualities) of kapha.

The main sites of kapha accumulation in the body.

The main functions of kapha.

The general causes of kapha imbalance.

The 5 subtypes of kapha and their main sites, and functions.

The main therapeutic site for kapha.
Prakrti: Your Ayurvedic Constitution
Understanding the meaning of prakrti and the 7 main categories of prakrti.

How to determine probable physical prakrti.

The etiological factors that affect prakrti.
Vikrti: Current Condition
Understanding vikrti.

How to determine probable vikrti.

The etiological factors that affect vikrti and resolving vikrti.
Agni & Ama
Understanding agni - the digestive fire. The qualities and functions of agni.

The 10 signs of healthy agni & 10 signs indications that agni is impaired.

The 4 clinical classifications of agni and understand their probable physiological effects.

Introduction to ama - morbid material in the body: how it arises and can be resolved

The possible causes of ama formation, symptoms associated with the presence of ama and possible remedies.
Understanding how Dosas can Aggravate Each Other; Gentle Pacification Techniques; Dinacarya
Understanding how the dosas "push" or provoke each other.

Introduction to samana - gentle ways to restore balance to health.

Understanding the basic components of dinacarya - healthy daily routines.

Understanding Khavaigunya – defective spaces in the body.

Understanding and practice of the yogic practice in daily life as dinacarya.
Recommended Reading (optional)
David Frawley: Yoga and Ayurveda
Teachers
Dr. C. J. Naveen, Ayurvedic Physician
Dr. Naveen comes from a traditional Ayurvedic family and is working as an Associate Professor of the Rajiv Gandhi Ayurveda Medical College in Mahe, Pondicherry, India in the department of Kayachikitsa (Ayurveda General Medicine). He has received the degree of Bachelor of Ayurvedic Medicine and Surgery (B.A.M.S.) from Dr.MGR Medical University, Chennai, India and a Post-graduate, MD - Ayurvedic Medical Doctorate (Ayurveda Vachaspathi) in the fields of Ayurveda Siddhantha or Ayurveda Kayachikitsa from Rajiv Gandhi Medical University, Bengaluru, India.
Dr. Naveen has worked in many traditional Ayurveda institutes and Ashrams in India as a chief physician. He has delivered lectures, conducted workshops and presented many scientific research papers in Europe, Russia, and other Asian countries in the different fields of Ayurveda, and Yoga. As a native of Kerala, he is specialised in the treatments of Panchakarma and other traditional Kerala Ayurveda. He is the chief examiner for various Ayurveda universities in India.
Dr. Naveen brings a wealth of classroom and practical experience to his teachings. By combining Yogic knowledge and Ayurveda as a way of life he helps students to understand living in harmony with nature and create a beautiful balance between body, mind and consciousness.
Mani Raman, lead teacher at Yoga Vana, will guide the Hatha Yoga practice sessions, meditations and satsang during this retreat. Learn more about him here.
Other Yoga Vana faculty are joining in to create a well balanced retreat and learning environment.
Attendance at all activities is mandatory. Changes in the program may occur from time to time as per the prevailing conditions.
The course is taught in English only. Our team members also speak Hindi, Tamil, Malayalam, Telugu, Bengali, German & Spanish.
Location & Climate
The course takes place at the Holistic Centre for Yoga & Vedanta founded by Pujya Swami Dayananda Saraswati in Amboli, a hill station in southern Maharashtra just 110 km from Goa International Airport. Perched on the hills of the Western Ghats, one of India's most diverse ecosystems, this secluded venue offers a peaceful natural environment that is very conducive for an in-depth study and practice of Yoga and Ayurveda.
The climate in February is sunny and dry with temperatures ranging from 17° to 32° C. Due to the hilly location, the mornings and evenings can be cool, with hot temperatures during the day. Please refer to our "What to bring" section below for recommendations on clothes and other items suitable for the season's climate.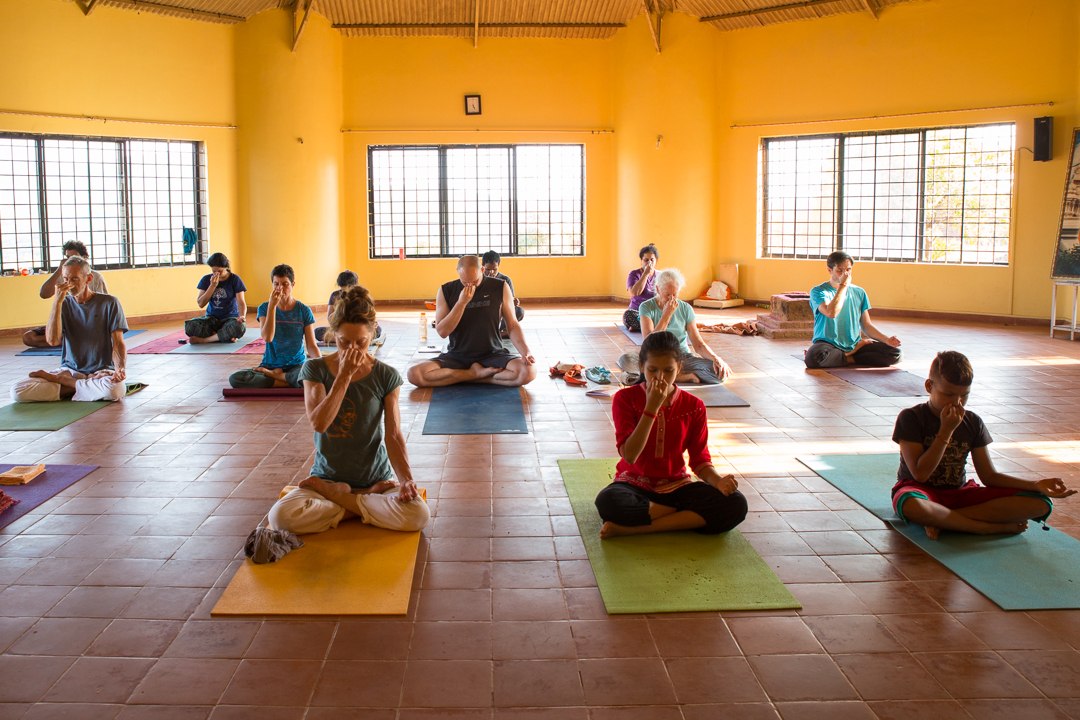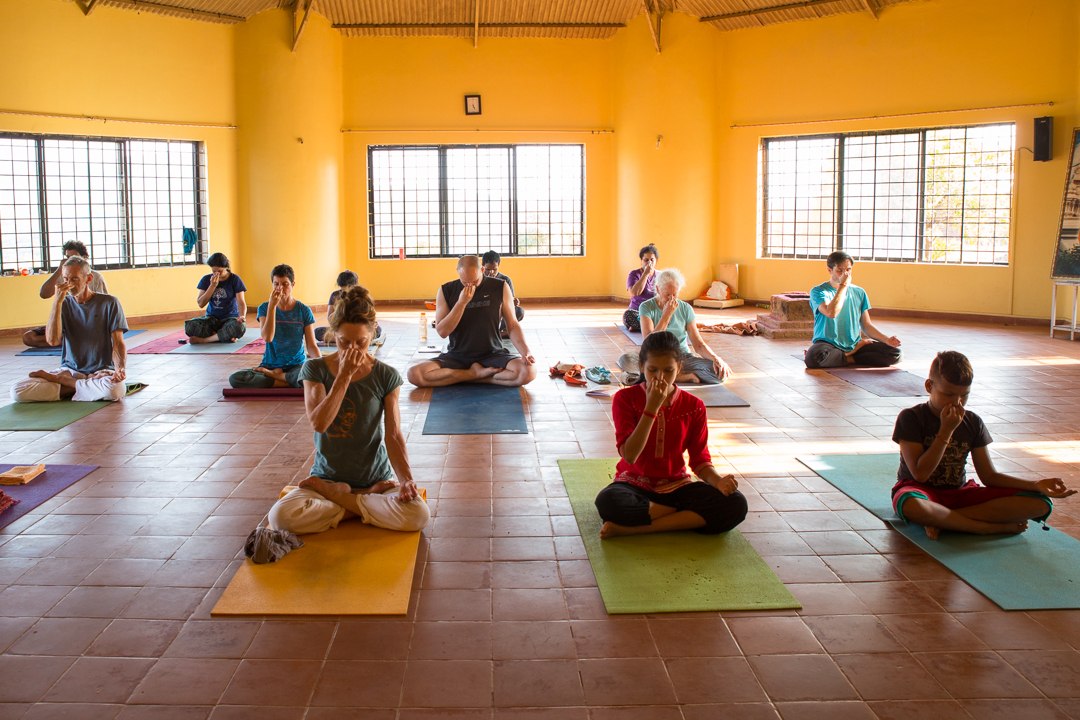 The rooms are situated in beautiful, simple cottages from natural stone and come with attached bathroom and hot water facility.
Accommodation options include a 6-bed dormitory, twin sharing and single rooms. For rates, please refer to the investment section below.
Some accommodation types are limited and will be allotted on a first come-first serve basis.
Investment
Dormitory – INR 7,000
Twin Share – INR 9,000
Single Room – INR 12,000
COURSE FEES INCLUDE
3 full days of tuition (Tuesday, 12 February 2019, to Thursday, 14 February 2019)

Full board with two lacto-vegetarian meals per day, snacks and tea

4 nights of accommodation (bed sheets, towels and mosquito nets are provided) from 11 to 15 February, 2019

Course manual

Internationally recognised Continuing Education certificate from Yoga Vana Forest Academy, a Yoga Alliance registered school

Access to WiFi in the common area at designated times
COURSE FEES DO NOT INCLUDE
International and local transfer to and from the ashram

Excursions on days off (optional)

Laundry service (optional)
By air
The nearest airport is Goa International Airport (110 km). You can fly into Goa directly from most major cities in India.
Taxi transfers to and from the airport can be arranged on request (approx. EUR 45).
By train
The closest railway stations are "Sawantwadi Road" (30 km from Amboli ashram), "Kudal" (50 km), "Belgaum" (70 km) and "Madgaon / Goa" (115 km).
Taxi transfers to and from the railway stations can be arranged on request.
What to bring
Flashlight • Yoga mat • Alarm clock • Water bottle • Travel mug • Pens • Toiletries • Cash (Indian rupees) for laundry service, and other needs • Closed shoes for meditation walks • Sandals • Mosquito repellant • Sunscreen • Medication, if any • Warm meditation shawl • Casual comfortable clothes for asana practice • Warm clothes for cool nights, mornings & evenings, and clothes for warm days
PLEASE NOTE
The ashram is located in a rural area with limited access to ATMs or convenience stores. Please remember to bring anything you may need during the four weeks of training, including four weeks' supply of toiletries, medication and cash for laundry services, transfers, optional excursions on days off and other needs. There is a bank at 500 m from the ashram where credit cards can be en-cashed.
In order to maintain the purification effects of an intensive yoga practice, please be aware that the use of alcohol, drugs and cigarettes, as well as the consumption of non-vegetarian food is not permitted throughout the full duration of the course.
Please refer to our Terms & Conditions for further details.
Registration
Click the button below to fill the registration form. We will get back to you within 48 hours to let you know how you can secure your place on this training.
For our refund and cancellation policy, please refer to our Terms & Conditions. You can contact us directly if you have any doubts or questions - we're happy to assist you.
We look forward to welcoming you at Yoga Vana soon!
Be a part of the international Yoga Vana community!
Visit our gallery for more impressions from previous Yoga Vana courses.