Yoga Vana Teacher Training Course
Amboli - Western Ghats, Maharashtra, India
200 hours (4 weeks) intensive residential | Yoga Alliance certified
At Yoga Vana, we provide a warm and open learning environment for you to intensify your personal Yoga practice and to deepen your understanding of the philosophy and science of Yoga. We support you throughout the course and beyond in developing the skills and confidence to be the teacher and guide you are called to be.
Conducted at a secluded hill station ashram on the Maharashtra-Goa border, this month long Hatha Yoga Teacher Training Course - just 110 km from Goa International Airport - is a unique opportunity for rejuvenation, self-empowerment and deep inquiry through yogic study and practice.
Open to only a small group of trainees, our Teacher Training Course allows you to closely interact with the teachers' team and receive individual guidance and inspiration for your own practice and teaching capacities.
Our Yoga Vana Teacher Training Course is more than just a certification course. Four weeks of intensive study and practice of Yoga in an uplifting ashram atmosphere will fuel your personal evolution and transformation. Whether you intend to teach Yoga after the course or not, you can expect to emerge from it awakened to a new way of being in your life and in the world.
The Yoga Vana teaching team is led by Mani Raman who has trained thousands of international Yoga teachers over the last twenty years.
Contact: mani@yogavana.in | www.maniraman.org
Faculty from all over India and other parts of the world are coming together for this course to create a balanced, wholesome learning experience for you in all aspects of the practice and lifestyle of Yoga.
Changes in the daily schedule may occur.
The course is taught in English only. Our team members also speak Hindi, Tamil, Malayalam, Telugu, Bengali, German & Spanish.
To learn more about the course syllabus and other general information on our Hatha Yoga Teacher Training Courses, please click here.
Location & Climate
The course takes place at the Holistic Centre for Yoga & Vedanta founded by Pujya Swami Dayananda Saraswati in Amboli, a hill station in southern Maharashtra just 110 km from Goa International Airport. Perched on the hills of the Western Ghats, one of India's most diverse ecosystems, this secluded venue offers a peaceful natural environment that is very conducive for an in-depth practice of yoga and meditation.
The climate in January and February is sunny and dry with temperatures ranging from 17° to 32° C. Due to the hilly location, the mornings and evenings can be cool, with hot temperatures during the day. Please refer to our "What to bring" section below for recommendations on clothes and other items suitable for the season's climate.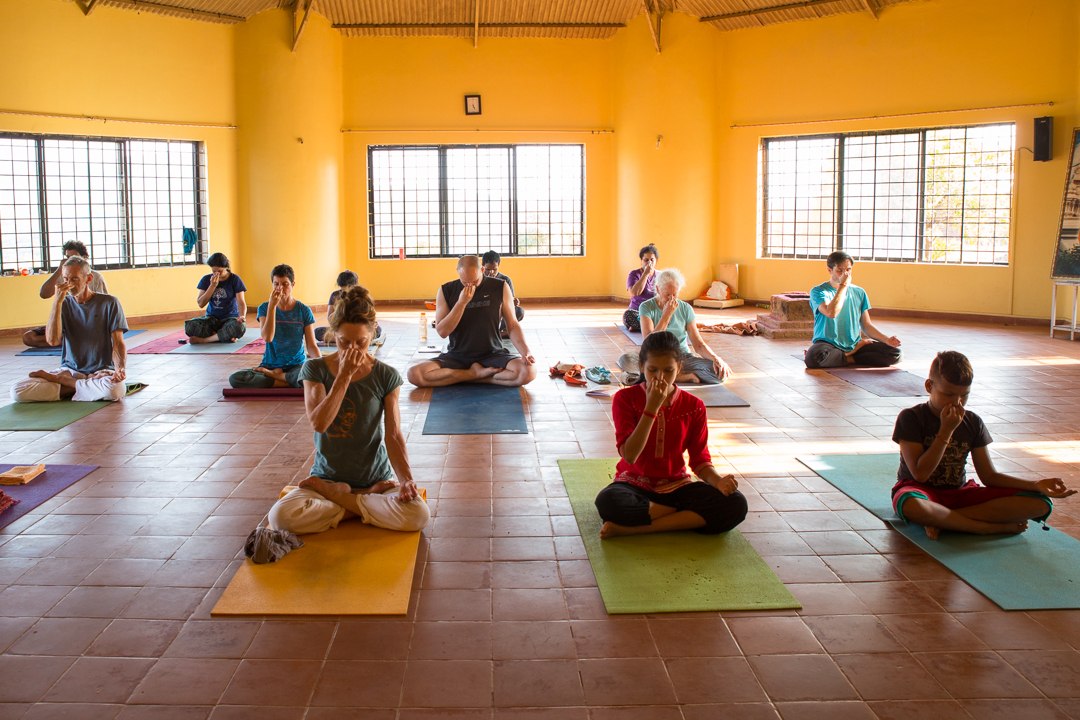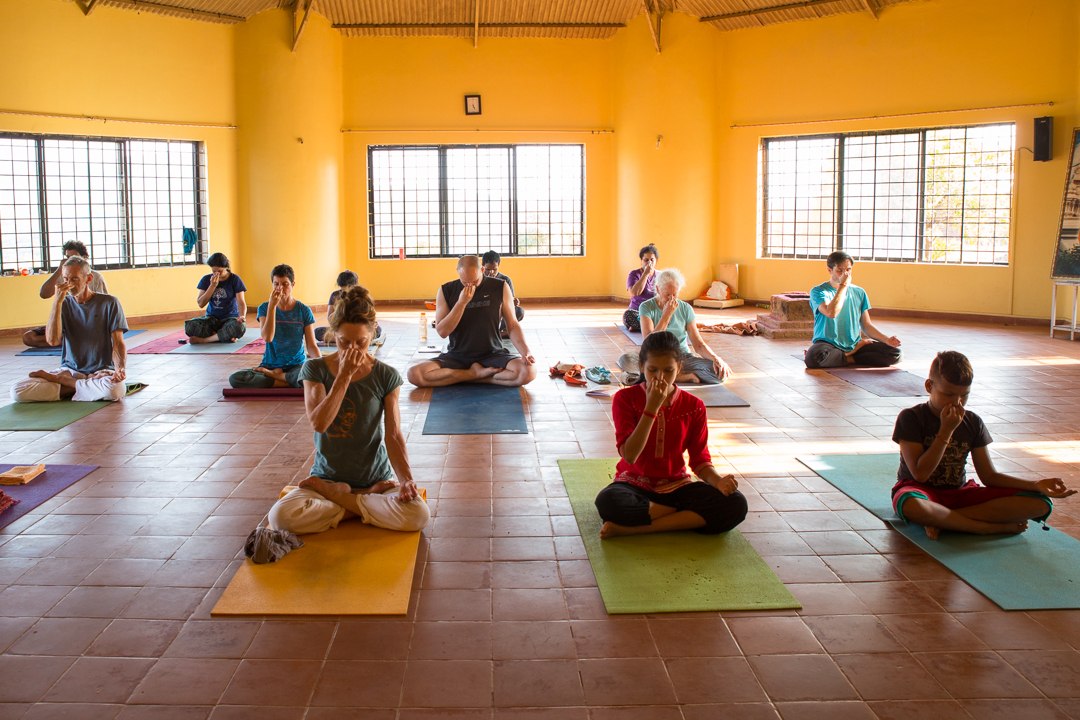 The rooms are situated in beautiful, simple cottages from natural stone and come with attached bathroom and hot water facility.
Accommodation options include a 6-bed dormitory, twin sharing and single rooms. For rates, please refer to the investment section below.
Some accommodation types are limited and will be allotted on a first come-first serve basis.
COURSE FEES INCLUDE
4 weeks of tuition

Full board with two lacto-vegetarian meals per day, snacks and tea

Accommodation (bed sheets, towels and mosquito nets are provided)

Course manual, books and notebooks

Two sets of teaching uniforms

Internationally recognised certificate from Yoga Vana Forest Academy, a Yoga Alliance registered school, upon successful completion of the course

Access to WiFi in the common area at designated times
COURSE FEES DO NOT INCLUDE
International and local transfer to and from the ashram

Excursions on days off (optional)

Laundry service (optional)
By air
The nearest airport is Goa International Airport (110 km). You can fly into Goa directly from most major cities in India.
Taxi transfers to and from the airport can be arranged on request (approx. EUR 45).
By train
The closest railway stations are "Sawantwadi Road" (30 km from Amboli ashram), "Kudal" (50 km), "Belgaum" (70 km) and "Madgaon / Goa" (115 km).
Taxi transfers to and from the railway stations can be arranged on request.
What to bring
Flashlight • Yoga mat • Alarm clock • Water bottle • Travel mug • Pens • Toiletries • Cash (Indian rupees) for laundry service, and other needs • Closed shoes for meditation walks • Sandals • Mosquito repellant • Sunscreen • Medication, if any • Warm meditation shawl • Casual comfortable clothes for asana practice • Warm clothes for cool nights, mornings & evenings, and clothes for warm days
PLEASE NOTE
The ashram is located in a rural area with limited access to ATMs or convenience stores. Please remember to bring anything you may need during the four weeks of training, including four weeks' supply of toiletries, medication and cash for laundry services, transfers, optional excursions on days off and other needs. There is a bank at 500 m from the ashram where credit cards can be en-cashed.
In order to maintain the purification effects of an intensive yoga practice, please be aware that the use of alcohol, drugs and cigarettes, as well as the consumption of non-vegetarian food is not permitted throughout the full duration of the course.
Please refer to our Terms & Conditions for further details.
Registration
Click the button below to fill the registration form. We will get back to you within 48 hours to let you know how you can secure your place on this training.
For our refund and cancellation policy, please refer to our Terms & Conditions. You can contact us directly if you have any doubts or questions - we're happy to assist you.
Scholarship
You can also apply for a scholarship from our Yoga Vana scholarship fund. The fund is made possible by the generous donations of previous Yoga Vana students.
Our vision is for this fund to enable current and future leaders and change makers to heal themselves and to promote peace, physical and mental health, emotional resilience as well as environmental awareness in their communities by sharing the yogic tools with others.
A few limited partial scholarships are granted about 4-8 weeks before each course based on the personal situation and motivation expressed in the application.
We look forward to welcoming you at Yoga Vana soon!
Become a part of the international Yoga Vana community!
Visit our gallery for more impressions from previous Yoga Vana courses.